MIKAWAKOUGEI GLASS ART MUSEUM

Welcome to Mikawakougei Glass Art MuseumThis museum was made with a completely different concept from the conventional art museum.
I just want to keep the distance between the viewer as close as possible to the viewer,
For example, I am attempting a novel approach that makes people work together.
There is no esoteric question here. There is only a clear "emotion".
Many amusement and theme parks are on large screen digital images
While trusting, the work of "raw" produced by the hand of man will attract you.
"But I just want to make you happy."
All works exist for that purpose only.
I would like to be an art museum that will be another example even for small grains.

Exactly a bodily sensation museum. Shiny things, sound producing things, things with movement,
It approaches those who see the work more dynamically. Among them, in 2002,
The world's largest kaleidoscope and the "sculpture mirror room" are masterpieces.
Works that have both innovations and twisted ideas will not make you feel as much as you can.
Also, here you will find works of various genres and the image of glass will change dramatically.
Such attitude of the hotel has gained the support of many people even though it is small but has attracted attention of the media all the time.
Main exhibits
Athena

Orion

Synchro

SPHERE

Sculpture mirror room

Universal kaleidoscope

It will heal us in our lives
Introducing familiar glass art is "Life and glass art hall".
There are lots of works that you would like to put in your room, such as a stately look and a cute lamp.
There is an original kaleidoscope in the kaleidoscope section, and you can see it freely.
Another point of view on the 3rd floor is "movie and an exhibition hall of manipulation" mania drool.
The father who was exposed to family service and the exhibition room of kids is delightful.
Omona tenji naiyō Main exhibits
Smile Kaleidoscope

Swat

Crystal kaleidoscope

Crystal kaleidoscope

Gun exhibition hall

Binocular kaleidoscope
Kazuhiko (Kamiya Kazuhiko) Profile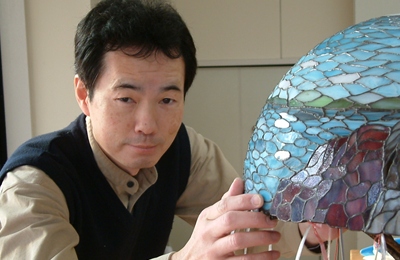 1954 Born in Nishio City, Aichi Prefecture. Since graduating from college since I was a child, I joined the machine design agency "Nagoya Technology Center" (currently Meitec) in Nagoya City. We are dispatched to several major companies in the prefecture to design machine tools, tools, pumps, autoloaders and so on.
 
1988 I leave Meitec with sickness as a machine. Enter the path of glass craft. At this time, glass craft is a completely amateur. All current works are self-taught. Multiple exhibitions were held, including galleries of Nishio-shi and Anjo-shi, Matsuzakaya of Okazaki city, Sogo of Toyota-shi.

1993 March opened the Mikawa Craft Glass Art Museum.


The majority of the exhibits at Mikawa Craft Glass Art Museum are Kazuhiko's works. Before turning into glass crafts he has a career of 13 years of mechanical design. For that reason, it has a characteristic graphical style that eliminates waste, and we are doing a lot of innovative works that can not be captured by established glass crafts by taking advantage of that career. Meanwhile, as I was a student, I was oriented towards manga artists, and I have a reputation for depicting people, especially face expression, as seen in "Cinema Glass".
Contact Us
If you have any questions,
please do not hesitate to contact us Our staff will be happy to respond.
TEL :

+81-563-59-3334